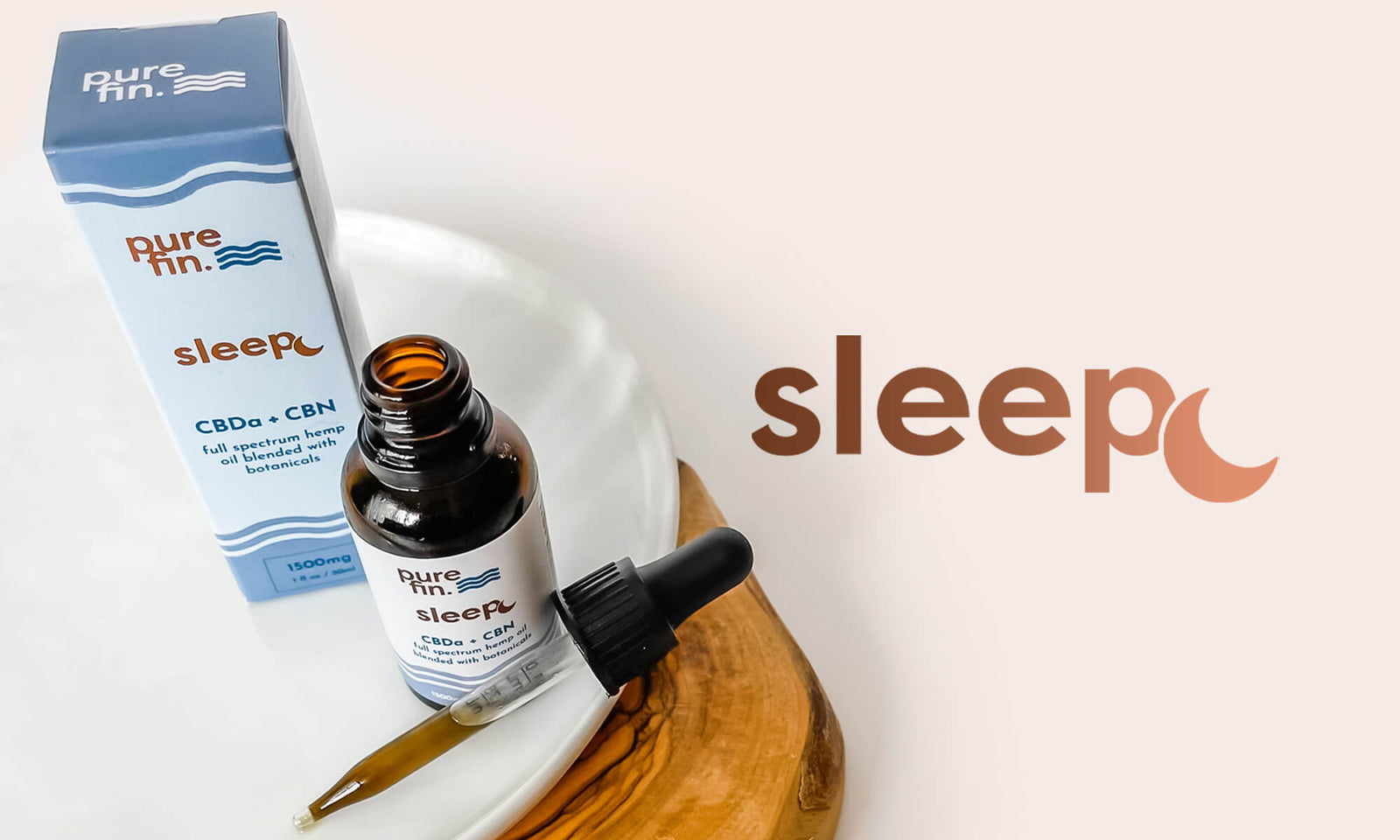 We answer your most common Sleep Oil questions and help you learn all about your new bedtime BFF.

Q. How is Sleep Oil different than your other CBDa oils?

A. Pure Fin Sleep Oil combines our flagship CBDa with another cannabinoid, CBN plus a custom blend of sleep-supporting botanicals. This oil was designed specifically for nighttime use to support better sleep!

Q. Tell me more about CBN, what it is and how it works...

A. CBN (Cannabinoil) is a cannabinoid touted for its relaxing, sleepy properties. CBN is widely utilizted in nighttime CBD products due to its potential sleep supporting qualities.

Q. What strength is the Pure Fin Sleep Oil available in?

A. Our Sleep Oil comes in one strength, a 1500mg blend. Each 1ml serving provides 40mg CBDa + 10mg CBN.

Q. I'm new to using the Sleep Oil. Should I start out by taking the full 1ml serving?

A. While the Sleep Oil serving size is 1ml, if you're new to using CBD products (or new to this particular product) you may consider starting at a lower dose upfront (such as .25ml), and working your way up towards the full 1ml serving size as needed until achieving the desired result.

Q. Is the Pure Fin Sleep Oil flavored?

A. Our sleep oil is subtly flavored with a hint of warm spice. We'd describe it as a hug in a bottle :)

Q. When should I take Pure Fin Sleep Oil?

A. We suggest taking the Sleep Oil at least 1 hour prior to laying down to go to sleep. This will help give the oil time to take effect by bedtime.

Q. I've used Melatonin before without success. Does this mean your product won't work for me?

A. Pure Fin Sleep Oil is not a Melatonin product. Our oil contains a custom blend of CBDa, CBN, and botanicals. Due the different nature of these supplements, we cannot speak in direct comparison.
Saying that, we have had many customers who have shared that after trying Melatonin unsuccessfully in the past they were in fact able to achieve positive results with our Sleep Oil.

Q. I've used the Pure Fin Sleep Oil for several nights, but not gotten the relief I'm looking for?

A. Whenever starting a new CBD product, your body can take some time to adjust and fall into harmony. Sleep is a complex function so it's important to use the oil nightly upfront to give it the proper time to take effect and help balance a better sleep cycle. It's also important to consider your daily and nightly habits to ensure other factors aren't unintentionally hindering your sleep. The next Q&A dives deeper into this!

Q. Is there anything I should be doing other than Sleep Oil to support the best sleep possible?

A. Absolutely! A few things worth trying are shutting off devices (blue light exposure) at least an hour before bedtime, following a consistent sleep/wake time routine to support your circadian rhythm, and practicing stress management techniques both during the day and at night to help ease racing thoughts when your head finally hits the pillow. A few of our favorite stress-reducing techniques include meditation, walking, breathwork, and gentle exercise and stretching.
Think of healthy daytime and nighttime habits as a sundae, and Pure Fin Sleep Oil as the cherry on top. Sleep is a complex function, but you can set yourself up for success with a solid, sleep supporting routine!

Q. I love your Sleep Oil! How do I help share this product with others?

A. We love to hear this! We welcome you to post a review to our website (found at the bottom of the product page) and to share your testimony on social media (make sure you tag us @purefinshop).
Our Pure Fin family community is integral in helping get our products into the hands of those that need them most. We couldn't do it without you!